LEED®: Sustainable Building Design
As our society's environmental awareness increases, the impacts of human activity are now better understood and can be more accurately quantified. Particularly in the construction industry, it is important to consider the effects that new buildings, roadways, and other improvement projects have on their surrounding habitats and natural environments.
The Leadership in Energy & Environmental Design, LEED® Green Building Rating System™ is a voluntary, consensus-based national standard for developing high-performance, sustainable buildings. Buildings that meet or exceed the standards outlined in the LEED Rating System can pursue LEED Certification ranging from "Certified" through "Platinum" depending on the various energy and environmental credits achieved.
Our team of 4 LEED Accredited Professionals is experienced in the LEED process and can provide you with customized LEED services for your project. Whether you're looking to investigate environmentally responsible building design ideas or desire full LEED AP services for certification of a facility, the team at Harris Architects will work with you to implement the program of LEED criteria. We will help you to achieve your facility's energy and environmental goals.
Environmental Impact
Reduce adverse impact to the project site and surrounding habitats during construction and throughout the building's life.
Indoor Air Quality
Create a safer, healthier, and more productive environment for employees, clients, and visitors.
Life Cycle Costs
Dramatically reduce energy usage and costs over the facility's lifetime.
Industry Leadership
Lead your industry by setting an example of environmentally responsible facility design and construction.
Marketing & Advertising
Send the right message to potential clients, tenants, employees, and peer companies through your facility's status as a LEED Certified building.
Grants & Reimbursements
Earn provisions for grants, tax incentives, etc. from many state and local governments for implementing eco-friendly design initiatives.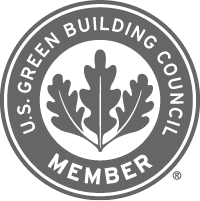 BIM: Interactive Building Design
BIM means many different things to different people in and out of the design industry. It is important to establish what Building Information Modeling (BIM) is. BIM is a flexible, single-source, three-dimensional visual design and information management software used as an alternative to the traditional two-dimensional CAD drafting.
Using BIM, we have shifted our representation and use of traditional drawings to a stronger interactive visual tool. We can now bridge the gap between purposeful work drawings and powerful presentation graphics. BIM contains a library of object-based elements, allowing us to render the smallest components of a model with a few simple lines, texts, and other two-dimensional graphical data.
When looking at a CAD floorplan, you see a two-dimensional idea, one floor at a time, in a forced perspective. When viewed in BIM, that single floorplan blossoms into a piece of graphic art containing depth, composition, perspective, and high levels of detail unavailable in a CAD drawing.
BIM takes all the raw data for a project and turns it into information that's accessible to the user, regardless of their knowledge base.
By using BIM, we end up with a project integration that is far more informative and creates greater coordination between disciplines. Implementing BIM speeds up communication and eliminates wasteful redrawing by working in a single format. In short, we are able to complete more comprehensive, detailed, informational drawings much more efficiently than if another program was used.